Tyler is in desperate need for sweatpants. He has outgrown all of his sweats and the ones we have left all have holes in the knees, big surprise! I just can't bring myself to pay $30 for a pair of kid's sweatpants. Plus all the ones that are good for his length are too wide in the waist. So to my pattern stash to find a straight leg pattern for boys.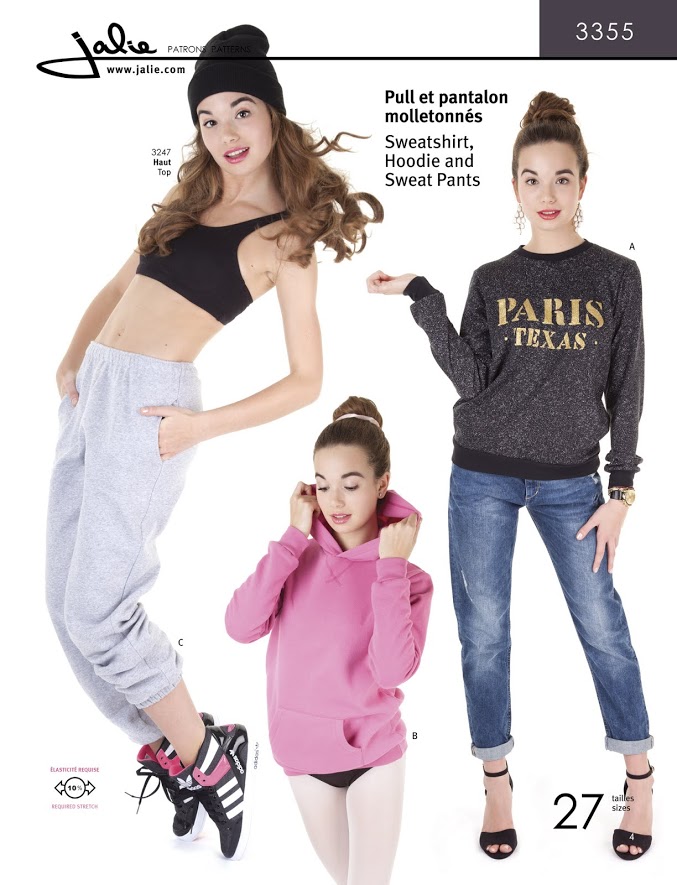 Now, if you sew for boys you will also know that there are not too many styles out there for boys. If you have 3 patterns you are good. You need sweats, pull on pants and a pants with a fly. You can add pockets, make a cargo style, etc. The availability of boy's styles is really lacking.
That is where Jalie 3355 comes into play. OK, so the picture shows a girl on the front. I think they really should show a boy and a girl as this pattern is unisex. I have made the sweaters for both
Simon
and
Sam
, now for the sweatpants.
Tyler is slender so I do not want a wide leg. And he LOVES pockets. What little boy doesn't? Plus adding topstitching adds details to make it look less homemade. This pattern is the perfect one for a straight leg sweatpants.
Simon decided to make this pattern. This is his first pair of pants. I am letting him fly on his own. I am sure they will turn out fabulous. There is one error in the pattern. On the pants assembly where is says fig. 21 they mean fig. 31 and the fig. 22 they mean fig. 32
I am familiar with how to assemble pants, so it did not throw me off. But someone was new they may be confused for a moment.
I had a nice thick charcoal grey stretch material. They are heavy and thick. Because I took the size 8 pattern and he wears a size 8, the fit is perfect in the stretch material. I will use a size 9 for real sweatpants material with no stretch in them.
Simon had no issues following the pattern. He was able to put them together without any issues.
The pants fit very well. The fit is perfect, no modifications needed. The topstitching details on the pockets add some nice details. Simon did an excellent job on the stitching.
He had to redo the waistband elastic. The first time he did not make the elastic tight enough. Easy fix, undo the stitches and re-stitch. He learned to pin together, try on, then sew.
The hem is perfect. We now have sweatpants for gym class that fit, with no holes in them. Let's see how long the no holes lasts!