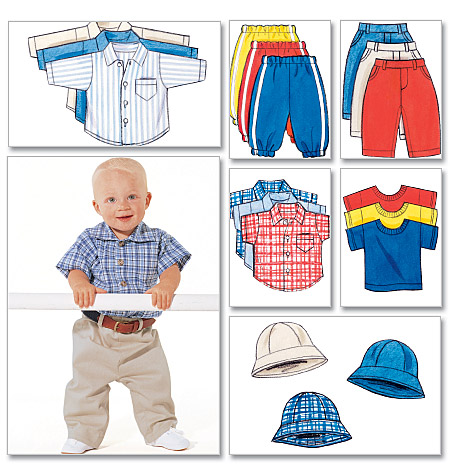 I chose Butterick's 5510 for Sam's pants and PJ bottoms. There is one piece that is used for the front and bottom. If I used 1.25 meters of fabric I can get a PJ for Tyler and a PJ for Sam. It is super easy and quick. I made the pants with the stripe on it, but omitted the stripe. By luck I placed the pattern on the material in the correct direction, so Sam's haunted houses are in the proper direction. Like he would notice!
It turned out great. It was quick and simple. I like that.
One issue I had was with sewing the elastic for the bottom. The elastic was hard to work with on my machine. But now I know that I should just take out the tray and I will have much more room to work with. I had originally sewed it by hand but it came apart. Once I did it by machine it stayed put.
The good thing about this pattern is that it can be long and still wearable because of the elastic. The elastic keeps it above the ankle. Always good!
I plan on making the Jeans style pants out of recycled jeans. I have a pair that are too big for me (ok, more than 1 pair) and instead of throwing them away I plan on making Sam a pair of new pants. With Tyler wearing his pants for 2 years in a row we do not have many hand me downs in terms of pants. I can make a lot of pants into shorts or Bermudas!