Ok, so I started my second sewing class at Fabricville. I will be finished my pants tonight, I am so excited. The pants may be too wide for me, we will have to see. It is not a question of the wring size or measurements, just a question of the wrong style. This will have to be something I learn, as I find it hard to pick put a nice pattern and visualize it on me.
I am making Butterick 5682, style E. The pattern itself was quite difficult. Even my seq wing instructor thought it was more complicated that need be. I kept making mistakes, having to rip out my stitches and start again. Having done all that, it really sunk in and I learned something! It is true what they say, you learn in making mistakes!
Because of this, I was able to finish my shorts, Simplicity 2258. I started the shorts in the summer and never got past the sewing stage. Because I could understand how to position the pants/legs together, I was able to follow the simple instructions. I now need my instructor to finish the seams with her Serger and the cuffs. I found these shorts to be quite bulky on me.But I got them done in one day and they were a great confidence builder.
I also finished Butterick 5753 Misses Top. I did version B. Once again I bought a pattern that would be WAY TOO bulky on my frame. I'm learning, I'm learning.
However, I did finish this in one day and I felt great about completing something with no errors, and having it look like the picture. I can wear it with a belt and vest and still rock it!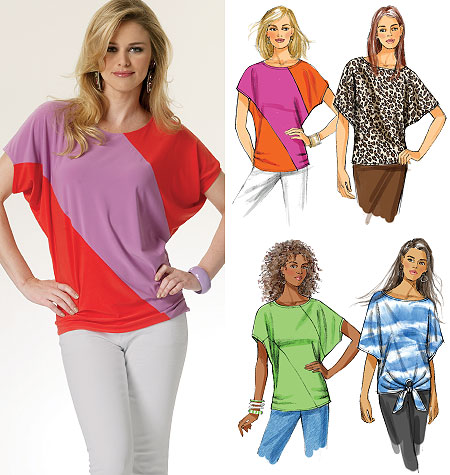 I have some really nice stretchy knit material to match the pants I am making. Seeing as my original choice for the shirt is too bulky, I did not want to waste the material. I bought some cheap fabric from Village des Valuers to do this top.This material is a polyester something, lol. This way I did not waste the pattern, nor my good material.
Oh! And the most exciting news! I figured out the PJ's pattern! I put together the back, inside seams and shoulders! Yippee! I figured it out. This sewing class has really catapulted my sewing knowledge. I do understand the instructions for the zipper, but I do not want to waste all my hard work. I am going to bring it to my class tonight and ask Pauline if I am doing it correctly. I am sooo happy!