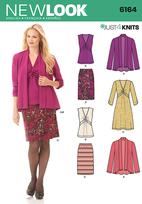 This time I sewed New Look's 6164. I loved the lines of the cardigan but I found the material a bit stiff. I wanted to try it in a lighter fabric that flowed. I liked the sizing so i saved a lot of time not having to trace it out again.
I am not sure on the instructions for the collar. I think I made an error in serging too many seams, as it made the collar a bit heavy. I like the results however. I think I need to tack the bottom part of the collar again to keep it in place, I bothers me when it twists.
I chose a cool loud print that is sparkly. You can't really tell from the pictures but it id sparkly. Not the kind that flakes off. I bought this fabric a few years ago from
Tissus Mayda
on Chabanel street. I bought several meters of it. I already made a dress and I wanted to use up my stash - Go Stashbusting!
All in all it was a quick evening project that I will actually wear. I may try this pattern a third time and not serge all the seams and see if it hangs differently. You can tell I want to get rid of my outstanding stash.
The shoulders are easy to install. I made sure to line up the markings, It has been a while since I had to scrunch up fabric to fit it into the arm. the second attempt was perfect. I love getting back intot he sew of things!
I need a new double stretch needle, my thread kept breaking. Here is a thought - learn how to use the Coverpro that is sitting on its own dedicated sewing table. I will in the next few weeks. I just learned how to thread the serger by myself, with success. I no longer need to ask for Simon's help. Seeing as he is missing fingers and it is difficult for him, and he can do, I should be able to. I got over my fear!
You can't really see the sparkles, but trust me it does! I love the feel of this fabric, it shimmers. It is time to go back to Chabanel street next weekend!