So how hard is it to find a pattern for boy's pyjama leggings? Apparently VERY hard! I could not find one single pattern for knit leggings for boys. Sure, there are many girl patterns out there for leggings. But a boy's shape is different. I wanted to find a pattern with an extra panel in the bum. One where I can have cuffs at the bottom with an elastic waist. I am sure I could draft one myself, but I did not feel like. Hey, it's not like I don't have a Zillion and one things to do in my life,
n'est
pas?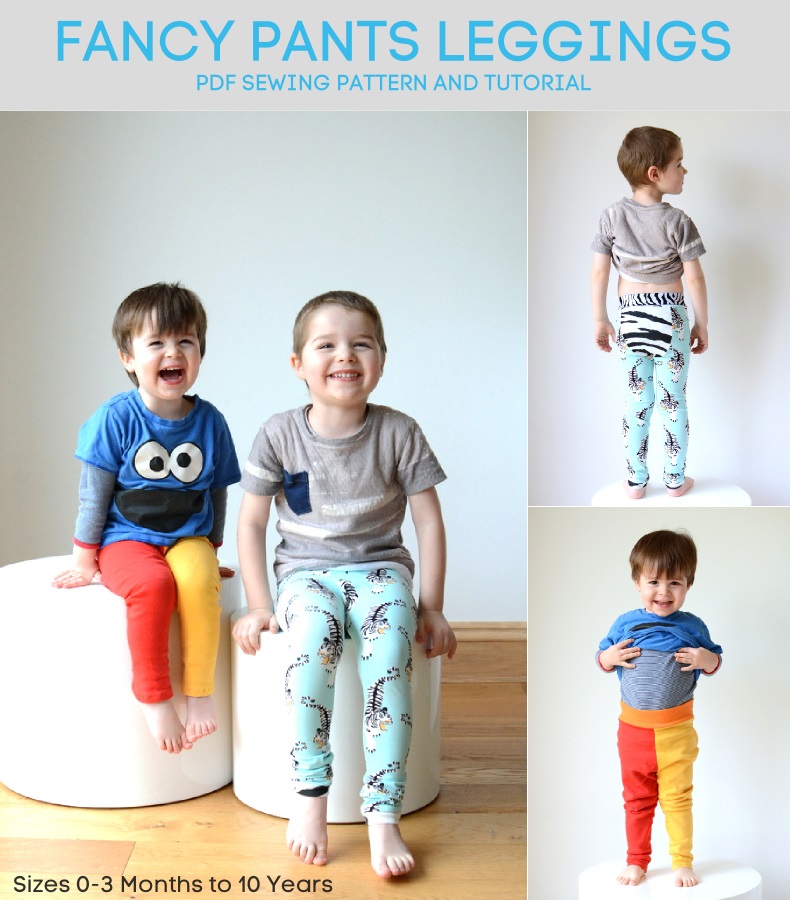 So to the internet I troll. Searching websites, googling boys leggings. NOTHING. Until I found
Titchy Threads
. They have exactly what I want,
Fancy Pants Leggings
. I can make long PJ bottoms of short PJ bottoms for the summer. P-E-R-F-E-C-T. Except it is online download only and PDF. I am not a fan of taping my pattern together, but at 47 pages long it is well detailed. This pattern is like a sewing class in itself. If you never made anything with knits or elastics, you would have ample information to guide you expertly through.
Their website describes this pattern as:
"
The Fancy Pants Leggings are close fitting leggings with a separate bum panel. The panel gives extra room in the rear for little ones in nappies and a chance to use contrast fabrics and treasured scraps or to feature your own designs. Suitable for both boys and girls, the leggings can be used for daywear, an extra layer in winter or pyjamas."
The pattern includes t
wo different ankle finishes,
Shorts, t
wo different waistband styles
and w
idth adjustment. If you print in color it is like the new Jalie patterns. Each size has a different color. And the sizes 0-3 month to 4T are in one pattern cutout and sizes 5 - 10 are on another pattern cutout.
I did a test with the size 7. It was a good thing as the size 7 was a bit snug. A size 8 would be best. When I was sewing the kids were jumping up and down screaming for attention. I did not read first and it turns out you need to cut the fabric out on a single layer. The leg pattern you are supposed to cut out the 2nd on flipping the pattern. This was just a test, so no biggy.
This time I cut out a size 8 and I cut 2 leg pattern pieces. This is the great thing about digital patterns. I can print it off and cut the size I need. NO tracing! Yippee!
The cut out and sewing took about an hour.I made one mistake, I put the elastic on backwards. The material is too delicate to remove the stitches.
These are the first attempt and they are PJ bottoms. I have enough material leftover from the grey for shorts and I have the blue material.
These PJ bottoms are exactly what I was looking for. Funny this pattern would be so hard to find. None of the Big 4 companies have them for boys. Then again, they have NOTHING for boys!