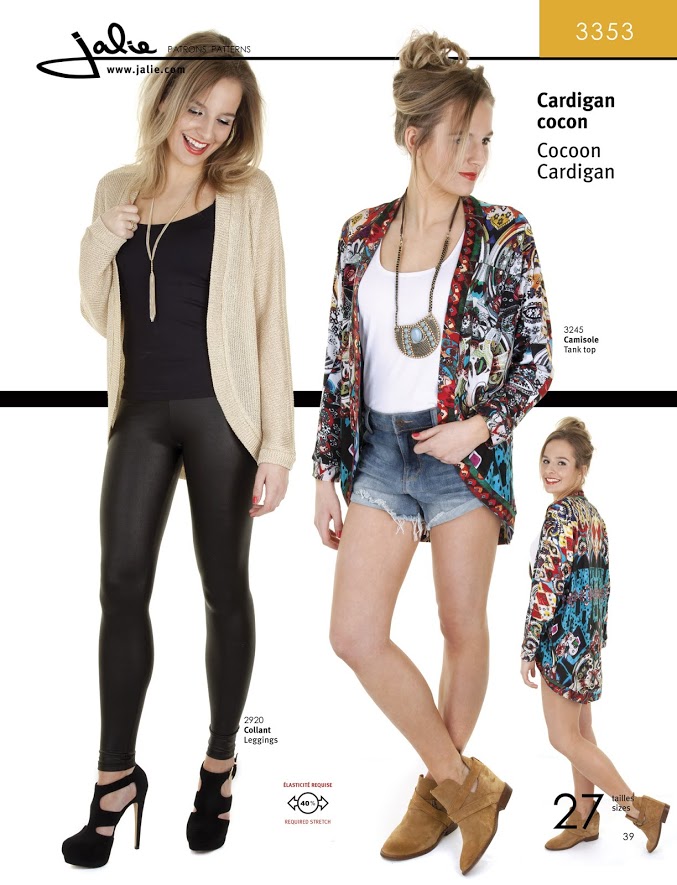 I am on a mission to use up the patterns I bought as well as reduce my fabric stash. The bets way to accomplish this is by using fast and easy patterns. Instant gratification. I used Jalie's 3353. I bought this pattern not too long ago along with some nice lightweight aqua knit.
Jalie defines this pattern as a Dolman-sleeved, loose-fitting open-front cocoon cardigan with banded round hem that is longer in the back. Cuffed sleeves that stay put when you lift them (but not on me!)
I traced out size U and made no adjustments. The sleeves are made to be short and with the cuff the are perfect length for me. Next time I will make the cuffs tighter.
I will definitely make this pattern again. It is quick and easy and fun to make. But first I have many more patterns to play with.
I glanced at the instructions but there are not many details. I took a class on stretch knits and we learned how to install collars and cuffs. If I did not have this class I think I would have Googled how to do these steps.I am surprised that Jalie did not give more instructions, but hey no biggie. I got it. The only difference I did was add topstitching to keep the cuffs and collar in place. Perhaps she tells you to do this, but I did not look at the instructions enough to notice. I also serged my seams.